Celestron has already advanced amateur astronomy with their StarSense Explorer series telescopes, which are some of the best-selling beginner telescopes on the market. Now, they are bringing that same award-winning StarSense technology to 8-inch and 10-inch Dobsonian telescopes!
Celestron StarSense Explorer Dobsonian Telescopes: Best of Both Worlds
Dobsonian telescopes have a reputation for being some of the best bang-for-your-buck telescopes out there, which make them perfect for beginners and those on a budget. However, most Dobsonians are completely manual and lack any kind of technology to assist you in finding objects in space. Unless you know your way around a telescope and the night sky, this can be frustrating for a beginner.
Enter the Celestron StarSense Explorer Dobsonian Smart Telescopes, which not only guide you around the night sky, but are also affordable too. Available in both 8" and 10" sizes based on your budget and light-gathering ability needs, these new telescopes from Celestron are sure to give you incredible views of the night sky and ensure you never get lost in space. Check out the video below for more information: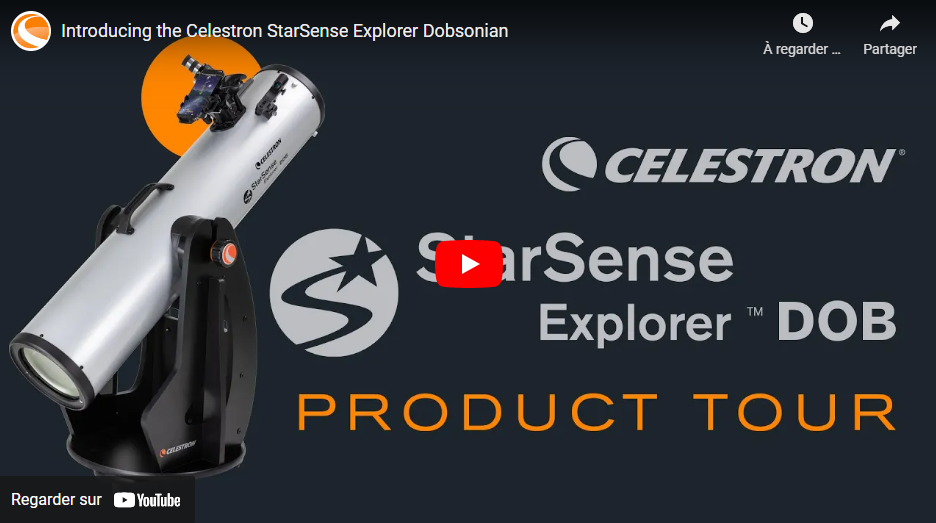 How do you use a StarSense Explorer telescope?
In a nutshell, StarSense Explorer works by using your smartphone's camera to figure out where in the sky the telescope is aimed. It does this by mounting your smartphone to a smartphone dock, which has a 45-degree mirror so that your smartphone's camera can see stars in the sky. It then references a star map to figure out where it is pointed. Once aligned, the app can precisely direct you where to point your telescope so you can easily find objects - say goodbye to the frustration of not being able to find a tiny object like a planet in the night sky!
How do you use the StarSense Explorer app?
The StarSense Explorer app uses a star map to show you a simulated view of the night sky. It will show you where your telescope is aimed, and then use arrows to tell you which direction you need to move the telescope to find the object you wish to look at. You can download the StarSense Explorer app for iOS or StarSense Explorer app for Android, and you can find the full StarSense Expolorer app manual here.
Which StarSense Explorer is best?
Each telescope in Celestron StarSense Explorer series is a little bit different, but they are all great in their own way so it's hard to go wrong. The best advice we can give in choosing one is to buy a telescope that you can both afford and carry. The smaller telescopes are great for those on a more limited budget, whereas the larger telescopes (like this Dobsonian) are best for those with a little more to spend and/or those who want a better view of the night sky.
What accessories do I need to use the Celestron StarSense Explorer Dobsonian?
The Celestron StarSense Explorer Dobsonians come ready to use right out of the box, but if you're looking for a few upgrades to enhance your experience, here are a few we recommend:
High-Power Eyepiece - Though the Celestron StarSense Explorer Dobsonians come with a 25mm eyepiece already, having a high-power eyepiece will greatly enhance your view of the Moon and planets by providing a much more zoomed in view than the 25mm will.
Barlow Lens - To give you even further versatility, a 2x or 3x Barlow lens can double or triple the zoom of any eyepiece, which gives you even more viewing options when the sky conditions allow for it.
NexYZ 3-axis Universal Smartphone Adapter - If you want to take amazing pictures of the Moon and planets through your telescope with a smartphone, you'll want to use this NexYZ Smartphone Adapter from Celestron to hold your phone steady.
Laser Collimator - Collimation is the process of aligning the two mirrors on Newtonian/Dobsonian telescopes and must be done often to give you the best view possible. This laser collimator makes it much easier to collimate than the included collimation cap.