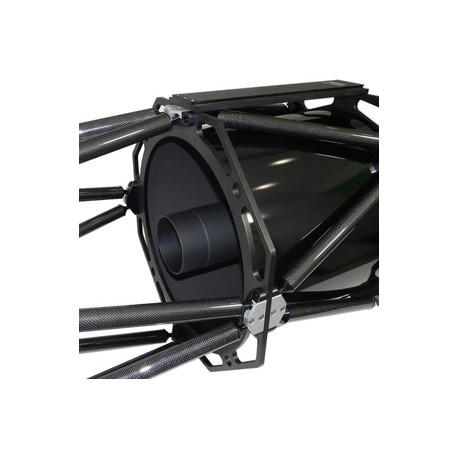 View larger
GSO Ritchey-Chretien RC 355/2845 Carbon OTA
Ritchey-Chretien Truss14 pouces
New product
GSO Ritchey-Chretien RC 355/2845 Carbon OTA
0 Item Items
Contact us before order for more information on delivery times and shipping costs
Warning: Last items in stock!
Availability date:
More info
GSO Ritchey-Chretien RC 355/2845 Carbon OTA
A dream telescope for astrophotography!
This Ritchey-Chretien optics with f / 8 gives very good pictures without the use of additional correctors and also permits the use of cameras with large sensors.
Your benefits:
Genuine RC-optics with hyperbolic primary and secondary mirror
Main mirror and secondary mirror made of quartz: no temperature-induced focus drift
The secondary mirror has a central marker for accurate collimation of the system
99% coating with dielectric coating on primary and secondary mirror for a bright image
Large, flat and coma free field without corrector: ideal for astrophotography
Enough back focus for further optical accessories: 233mm from the tube back,127mm from the 2 "-Steckhülse the exodus
Thanks to the lightweight yet extremely rigid carbon spaceframe construction, the telescope is relatively easy. This way you can save on the mount. The "smaller" models of GSO RCs are therefore even more transportable. Further advantages of the open design, the rapid cooling time and the lower Tauprobleme against the Schmidt-Cassegrain optics.
Until recently belonged Ritchey-Chretien's most expensive telescopes. Thanks to GSO we can offer RC astrographs at affordable prices.
Specifications:
Optics

Aperture (mm)
355
Aperture ratio
8
tube diameter (mm)
535
Tube weight (kg)
30
Tube construction
Wire-mesh tube
Tube length (mm)
1000
Tube material
Carbon
Type
Reflector
Coating
multiple
Resolving capacity
0,32
Type of build
Ritchey-Chretien
Focal length (mm)
2845
Limit value (mag)
14,6
Light gathering capacity
2570
Max. useful magnification
710

Reflector

reflectivity
99
Secondary mirror diameter (mm)
170
Ventilation for central mirror
yes
Secondary mirror material
Quartz
Main mirror´s construction
hyperbolic
Primary mirror - Material
Quartz

Eyepiece holder

Connection ( to eyepiece)
3
Type of build
Monorail
Gear reduction
1:10 Fine movement

Mount

Mounting type
no mount
Type of build
OTA

Included accessories

Prism rail
Losmandy-Style
Eyepiece adaptor
2" - 3"

General

Series
Carbon Truss Tube

Area of application

Astrophotography
yes
Nature observation
no

recommended for

Beginners
no
Advanced
no
Experienced amateurs
yes