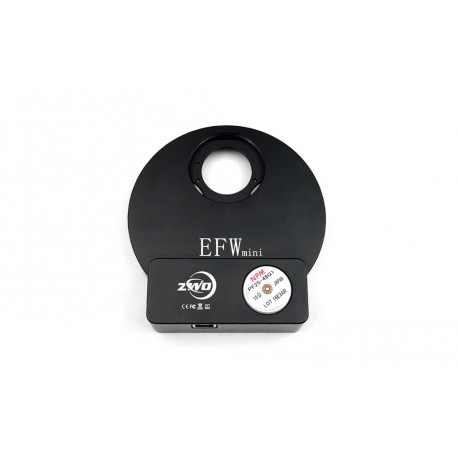 View larger
ZWO FIVE POSITION ELECTRONIC FILTER WHEEL - 1.25" AND 31MM
Roue à filtres ZWO EFWmini
New product
0 Item Items
According to availability at the supplier. Please contact us for more information.
Warning: Last items in stock!
Availability date:
More info
ZWO FIVE POSITION ELECTRONIC FILTER WHEEL - 1.25" AND 31MM
This splendid filter wheel is a compact and economical choice for use with your ZWO cameras. The body is fully CNC machined from a single block of aircraft grade aluminum, and weighs less than a pound- less than three hundred grams! The step motor that functions as the heart of the device is made in Japan and promises the utmost in quality and reliability.
The wheel has five positions, each capable of accepting 1.25" or 31mm filters freely. The wheel is capable of both clockwise and counter clockwise rotation freely, permitting you to quickly switch between the arrayed filters easily and cleanly. 

The filter is very low power consumption, and uses a single USB cable for power purposes. The maximum power consumption of this device is about 150ma@5V, meaning that it is possible to power this device from the USB hub of one of ZWO's Cooled Cameras while using the filter with said camera. This is certainly a boon to you the consumer, cutting down on the need for more hardware or further power supplies by making sure the filter can piggyback fully onto the camera you want to use it with anyway! 

The gap between the sensor and filter when using this wheel with the ZWO ASI 1600 is about 10mm, meaning that you won't experience any vignetting at all with 1.25" filters when in conjunction with scopes of a focal ratio of up to F/5, or with 31mm filters when in conjunction with scopes of a focal ratio up to F/2! This filter wheel is perfect for use in conjunction with the optimized ZWO RGBL filter set in conjunction with the ASI 1600, but can be utilized with any set of 1.25" or 31mm filter wheels and any camera it can be affixed to. 



ADDITIONAL INFORMATION
FILTER WHEEL TYPE 
Filter Changer