G2 Mark II cameras Moravian
The cooled G2 series Mark II cameras were developed for imaging under extremely low-light conditions in astronomy, microscopy and similar areas. Design of this series inherits from earlier G2 Mark I cameras but brings some significant enhancements, especially much faster download and adjustable telescope adapters. G2 cameras employ precise electronics providing uniform frames and extremely low read noise limited only by CCD detector itself. Modular mechanical construction allows various camera variants to be combined with rich set of accessories, including telescope adapters, off-axis guider adapters, internal or external filter wheels, Ethernet adapters, guiding cameras etc.
G2-0400, G2-1600 and G2-3200 cameras with non-ABG Kodak KAF CCD chips are suitable for scientific applications, requiring both high quantum efficiency and linear response to light.
G2-2000 and G2-4000 cameras with Kodak KAI CCD chips with ABG are suitable for astrophotography — anti-blooming of KAI CCDs eliminates charge blooming when bright stars appear in the field of view.
G2-8300 camera with Kodak KAF CCD with ABG, also suitable for astrophotography, especially in combination with telescopes with smaller focal length due to small pixels and large resolution.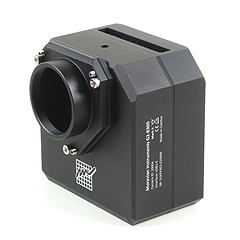 | | | | | | | |
| --- | --- | --- | --- | --- | --- | --- |
| Model | CCD Chip | ABG | Color mask | Resolution | Pixel size | Imaging area |
| | | | | | | |
| G2-8300 Mk.II | KAF8300 Monochrome | >1000× | None | 3358 × 2536 | 5.4 × 5.4 μm | 18.1 × 13.7 mm |
| | | | | | | |
Composition :
Camera G2 8300 MII
Roues à filtres
Nes coulant 2" avec filetage M48
For more information please visit this link, thank you: