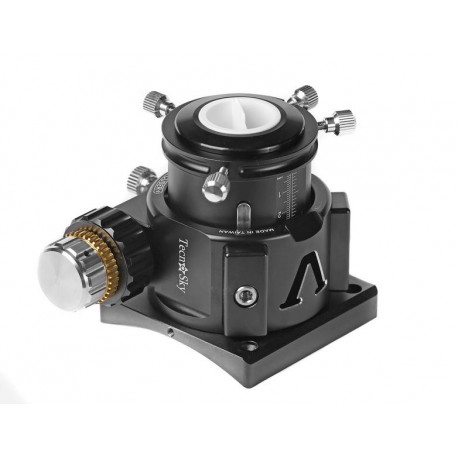 View larger
Tecnosky 2" V-Power for Newton Crayford Focuser 2"- short
Focuser V-Power pour Newton
New product
Tecnosky 2" V-Power for Newton Crayford Focuser 2"- short
0 Item Items
Article not in stock. Contact us in advance for the order (info@astromanie.ch)
Warning: Last items in stock!
Availability date:
More info
Tecnosky 2" V-Power for Newton Crayford Focuser 2"- short
2" Crayford Focuser for Newtonian telescopes
The TSUNC2 is a short focuser with only 60 mm height. The short length and the excellent workmanship make this focuser to one of the best in its class. Teleskop Service provides the well-known UNC Newtonians from own production with exactly this focuser.


The advantages and features of the V-POWER NEWTON focuser:

♦ Besides the 2" and 1.25" compression rings, the focuser offers a male 65 mm thread for threaded adaptions. That is important mainly for astrophotography.
♦ The focuser is only 60 mm heigh, so not much valuable optical way gets lost, you will have no problems with the focus position. The effective height with optional base is 75 mm.
♦ Reinforced ball bearings and V2A bearing surface offer maximum rigdity and full functionality even after many years where aluminum slowly abrades.
♦ The 1:10 speed reduction has professional quality and is also made of V2A and hardened steel.
♦ Massive steel rails are worked into the drawtube as counter surfaces for the ball bearings to ensure a smooth motion.
♦ The drag is adjusted with a friction screw. Locking the focuser becomes unnecessary, as the focuser keeps the position, even at high load. However, a knurled locking screw is built in.
♦ Steel parts and gear drives are designed for long-term operation under heavy load, especailly for astrophotography. The stainless steel ball bearings are combined with bearing surfaces also made of from stainless steel, so nothing can incise into soft aluminium.
♦ The drawtube is furnished with anti-reflex baffles to improve contrast.


SPECIFICATIONS
| | |
| --- | --- |
| Type: | Newtonian Crayford focuser |
| Drawtube travel: | 30 mm |
| Minimum height: | 60 mm with retracted drawtube |
| Weight: | 1000 grams |
| Drawtube drive: | Crayford principle with 4 strengthened ball bearing which are supported in a way to be adjustable |
| Drawtube: | with anti-reflex thread |
| Inner diameter: | matches 2" accessories without bottelneck |