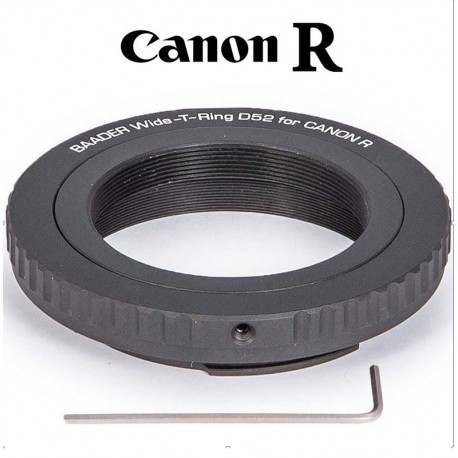 View larger
Baader Wide-T-Ring Canon EOS R with D52i to T-2 and S52
Baader Bague T Canon EOS R wide
New product
Baader Wide-T-Ring Canon EOS R with D52i to T-2 and S52
0 Item Items
Special order, no cancellation possible, Usually within 10-15 business days
Warning: Last items in stock!
Availability date:
More info
Baader Wide-T-Ring Canon EOS R with D52i to T-2 and S52
Baader Canon EOS R wide T-ring
Standard T2 ring for Canon R. This ring is used to connect digital SLR cameras to T2 accessories (M42x0.75mm).
Ideal for most field or coma corrector on the market, you can use adapter rings or extension tubes to achieve the ideal draw of field or coma corrector placed in front.
The T2 threaded internal part of the ring can be removed (fixed by small needle screws), you then obtain a Baader type S52 dovetail fixing system.
Information: you can transform this T2 ring into a T-M48 ring (M48 female thread) and add the Baader BA-2958552 ring (optional). This will take place in the main body of the adapter ring and you will obtain an M48 thread more "open" (48mm) than the T2 (42mm)
Characteristics
Manufacturer: Baader Planetarium
Ref: BA-2408336
EAN code: 4047825041036
Mechanical draft: 8.3 mm
Internal draft of the Canon R mount: 20 mm
Usage: connect (D) SLR cameras to accessories with T2 thread
Adaptable camera: Canon R Bayonet
Internal Diameter / Clear Aperture (mm): 41mm (T2) / 48.3mm
External diameter: 66.5mm
Internal connection (lens side) thread, S52, T2 (M42 x 0.75)
External connection (eyepiece / camera side) Canon R bayonet