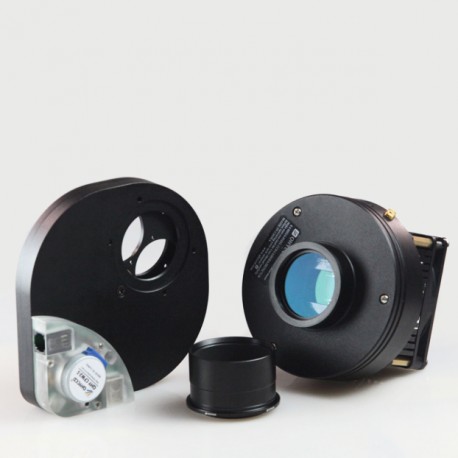 View larger
QHY9 Monochrome CCD Camera with 5 Position 50mm Filter Wheel
QHY9 kaf 8300 M filtres 50.8 mm
New product
QHY9 Monochrome CCD Camera with 5 Position 50mm Filter Wheel
The QHY9 has been discontinued by the manufacturer and we are out of stock. QHY has replaced the QHY9 with the QHY163
0 Item Items
Article not in stock. Contact us in advance for the order (info@astromanie.ch)
Warning: Last items in stock!
Availability date:
More info
QHY9 Monochrome CCD Camera with 5 Position 50mm Filter Wheel
QHY9 Monochrome CCD Camera with KAF-8300 Sensor
with Stand-Alone 5 Position 50mm Filter Wheel
If you're looking for a classic monochrome camera with a tried-and-true sensor, check out the QHY9! This lightweight, cooled camera uses the super popular Kodak KAF-8300 full frame sensor. Its 4/3 format makes the KAF-8300 a great choice for a wide range of telescopes, and the peak quantum efficiency of 56% (and 48% in Ha) is perfect for deep sky.
The QHY9 has two-stage regulated TEC cooling that can reach -50C below ambient for outstanding thermal noise control. Other features include a built-in heater that helps keep dew from forming on the sensor window, a mechanical shutter, and a built-in ST-4 style guide port. The small size and weight of the camera also makes the QHY9 a nice choice for HyperStar imaging.
Included QHY Medium Filter Wheel - 5 Position for 50mm Filters
QHY has included their motorized 5-position color filter wheel for 2" or 50mm unmounted filters as part of this package. A wide range of filters are available separately. The QHY Medium CFW has a gear driven disk and will also accept an optional carousel that holds up to seven 36mm unmounted filters.
QHY9 Specifications
Optical Format: 4/3 Full Frame
Active Pixels: 3326 x 2504
Sensor Size: 17.96mm x 13.52mm
Max Cooling: -50C below ambient
ADC Resolution: 16 bit with CDS and Preamp
Readout Noise: 8-10e - Typical 1Mpixel/s
Full Well Capacity: 25.5ke-
Binning: 1x1, 2x2, 3x3, 4x4
Download Speed: 1Mpixel/s (9 second download time
Guide Port: Built-in, ST4 type
QE: 56% @540nm, 48% at Ha