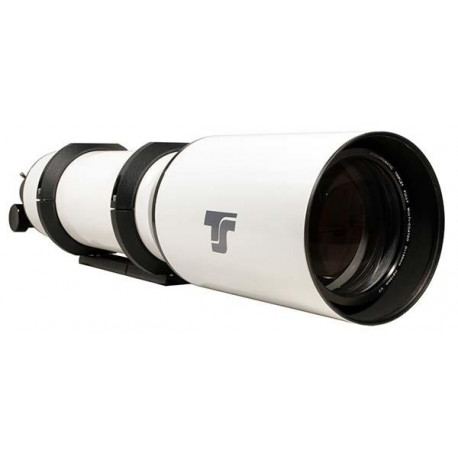 View larger
TS-Optics PHOTOLINE 130 mm f/7 Triplet APO - 3.7 inch RPA focuser - FPL-53
Réfracteur APO triplét 130
New product
This APO refractor is a uncompromising telescope for astrophotography, due to the color-free lens and the 3.7" RPA focuser.
♦ air spaced 130 mm triplet lens with Ohara FPL-53 element

♦ 910 mm focal length, f/7

♦ multicoating on every glass air surface

♦ 3.7" RPA Photoline focuser for correctors and reducers like Riccardi or PHOTOLINE, with maximal illumination and stability

♦ Retractable dew cap
0 Item Items
According to availability at the supplier. Contact us for more informations
Warning: Last items in stock!
Availability date:
More info
TS-Optics PHOTOLINE 130 mm f/7 Triplet APO - 3.7 inch RPA focuser - FPL-53
With the Photoline APO series, Teleskop-Service stands for non-compromised optical and mechanical quality.

The 130 mm f/7 triplet Apo refractor is equipped with one of the best lenses in its class, including a proven Ohara FPL53 element. The temperature compensated cell keeps the lenses free of stress even in temperatures below 0 °C.

The powerful lens is popular especially among astrophotographers, so we decided to offer this Apo with the big 3.7" RPA focuser. Now, CCD cameras with large sensors can be used and combined with all common correctors, like the Riccardi 0.75x reducer or the TS PHOTOLINE 3" flattener.

Main charcteristics of the PHOTOLINE 130 mm F7 Deluxe Apo:

♦ Air spaced triplet lens with Ohara FPL53 element
♦ Temperature compensated and fully adjustable cell
♦ 3,7" RPA Photoline rack & pinion focuser with 1:10 dual speed transmission - up to approx. 7 kg payload
♦ Direct M68 (ZEISS) thread for reducer/corrector
♦ Stiff aluminium tube with internal baffles



The lens of the PHOTOLINE 130 mm F7 APO:


We decided deliberately for the high-quality version with FPL-53 element to ensure the best possible optical quality. The multi coated lenses are mounted in a temperature compensated cell, the edges of the air spaced elements are blackened.





The 3.7" RPA focuser

One highlight of this telescope is the modern "Rack-And-Pinion" focuser. The quality is close to the well-known Feather Touch focusers from Starlight. The largely dimensioned focuser allows using full-frame or even large format cameras without vignetting, of course with matching correctors.

♦ No transmisstion by friction that may slip
♦ Internal baffels against reflexes
♦ Clear aperture: 102 mm
♦ Adjustment range of the inner tube: 98 mm
♦ 360° rotation for free choice of field
♦ 2" and 1.25" self-centering accessory adapters
♦ Threads for further adaptions: M100x1, M92x1, M68x1 ZEISS Level



Recommended correctors for astro imaging:

TSFLAT3 - Large format corrector which does not affect the focal length.

♦ Corrector fits directly to the M92x1 thread of the focuser.
♦ The recommended working distance is 103 mm.
♦ Included is an adaptor to M48/2" filter thread. From this thread, there are 55 mm to the optimal position of the camera sensor - ideal for DSLR cameras.

TS 0.79x Photoline reducer/corrector TSRED379-130





♦ Focal length is reduced to 719 mm, the photographic speed is raised to f/5.53
♦ Recommended distance from corrector to sensor: 55 mm
♦ Fits directly to the focuser´s M68 thread
♦ Usable up to full-frame sensors
| | |
| --- | --- |
| Lens diameter: | 130 mm |
| Focal length: | 910 mm |
| Focal ratio: | f/7 |
| Lens type: | FPL-53 triplet, airspaced |
| Coating: | fully multi-coated |
| Focuser: | 3,7" RPA Photoline focuser with dual speed transmission |
| Accessory side: | with M100x1 thread, M92x1 thread, M68x1 ZEISS level thread, 2" and 1.25" adapter |
| Payload of focuser: | approx. 7 kg |
| OTA weight: | 11 kg |
| Dew cap: | retractable, diameter 176 mm |
| Tube diameter: | 140 mm |